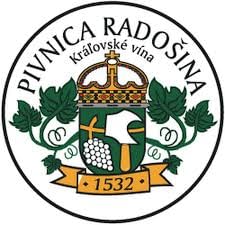 Radosina is a municipality in the Nitra Region of Slovakia, where the cultivation of grapes and winemaking has a long history. Records go back to medieval times in 1532 when mainly monks produced the wine. In 2004 the winery Radosina was established, aiming to continue the century-old tradition of wine production in this region. High-quality wines are their motto, sourcing grapes from 33 ha of cultivated terroir, with a protected indication of origin.
Here, on this terroir, Burgundian varieties have the perfect conditions for their development, mainly due to the south orientation of vineyards and acid soil with a chalky bedrock. Especially the Pinot Noir, Pinot Blanc and Pinot Gris are of exceptional quality and waiting for a degustation. The Pinot Gris grapes are used to produce their "Klevner", which was served on the wedding ceremony of Queen Elisabeth II and Philip Mountbatten, Duke of Edinburgh on November 20th, 1947.  The winery is proud of holding a certificate from the British Royal Family for serving on this occasion.
Wines from the Radosina winery are known for their unique taste and hold several awards from well-known wine competitions.
Slovak Wines Import is proud to have the "royal" Klevner wine and their other handcrafted unique wines in our portfolio.
We have listed 2 exclusive wines from the winery, that we can deliver from our storage in Switzerland immediately. If you will be interested in any other wines from the winery Radosina, let us know via info@slovak-wines.ch and we will import them to you from Slovakia directly.
Wines from the winery Radosina