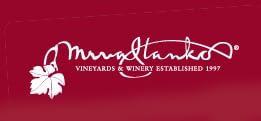 The Mrva & Stanko winery was established in 1997 by two good friends, the advertising professional Peter Stanko and Vladimír Mrva, a wine-grower with international experience.
The production grew
 from previous 12 000 to currently 400 000 bottles. As the winery has strict standards in retaining the top quality of its products, the production will not be increased.
"We create the beauty of the wine together with our wine-growers. The technique in how we collect our grapes, the harvest picking and many other details determine how the wine will eventually resemble itself the glass. This is the result of tight teamwork between the wine-growers and the winery", says Vladimir Mrva about the winery.
The white grapes are processed with great attention. Eventually, the wine is placed in stainless-steel containers under low temperature in order to keep aromas and bouquet substances typical for the northern wine region of Europe, which Slovakia is part of.
Red wines are also destemmed and put in vinificators for controlled fermentation where not only pigment is macerated but also tannins and bouquet agents. After pressing the grapes the small actuation fermentation process begins. Subsequently, the wines will ripen in wooden barrels.
Slovak Wines Import is proud to present these handcrafted and exclusive wines to you.
Wines from Mrva & Stanko winery