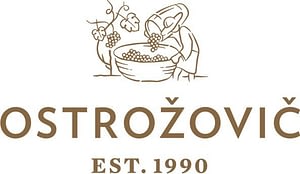 In the heart of the Tokay wine region, lies the village named Velka Trna, where was a family winery "Ostrozovic" in the year 1990 established. The patience and hard work brought this brand to the top 10 Slovak wineries distributing wines around the world.
The history of the Tokay wine is dated to the year 1650 and already the 1st vintage had met the appreciation between the common folk. This sweet wine had become very popular between the aristocracy in the Austria-Hungary, Russia, and Poland, whereby the wine was accredited for its beneficial effects on the health of the human body. The Tokay wine was known as "the wine of the kings and king of the wines". The wines from the Tokay region were beloved between the King Louis XIV of France, Queen Victoria, Emperor Franz Josef, Frederic the Great, Napoleon III, Peter the Great, Elizabeth of Russia and many others.
The Ostrozovic family owns 55ha of vineyards. They built up the tuff wine cellars with volcanic structures and background where all their wines mature. The tokay selection wines are very famous and won medals in international competitions.
Tokay is the world-famous sweet, topaz-coloured wine, whereas the original Hungarian expression is "Aszú". The meaning of the word aszú was "dried", but the term aszú came to be associated with the type of wine made with botrytised (i.e. "nobly" rotten) grapes.
The concentration of aszú was traditionally defined by the number of puttony of dough added to a Gönc cask (136-litre barrel) of must. Nowadays the puttony number is based on the content of sugar and sugar-free extract in the mature wine. Aszú ranges from 3 puttonyos to 6 puttonyos, with a further category called Aszú-Eszencia representing wines above 6 puttonyos. Unlike most other wines, an alcohol content of aszú typically runs higher than 14%. Annual production of aszú is less than 1% of the region's total output. The tokay selection must mature in the oak barrel for minimum 3 years, of which 2 years in the classical tuff wine cellar.
The Tokay selection wines are advisable for a long-term storage in the form of investment. Wines of a good quality can make it up to 200 years.
Slovak Wines Import is proud to offer you these world-class Tokay wines of excellent quality for your memorable moments.
Wines from the Ostrozovic
winery